Vitaminsforyou was kind enough to pass along a copy of the Flesh Python single on vinyl. This is absolutely the last piece of vinyl printed in Canada.
You can get some ordering info and listen to the track
here
. There was some
debate
about whether or not this will be the final vinyl product manufactured in our great nation but there's little evidence that any Canadian plants are up for going the vinyl route anymore.
I'm not sure what a Flesh Python is exactly, but I imagine it's a long coil that emerges slowly from your skin in during dark moments of self-doubt. When it's perched and ready to strike, it attacks you with a vicious power, much like the track itself. It's an unforgettable listen, and along with the various remixes by the likes of Jokers of the Scene and Stop Die Resuscitate, it's a release you won't want to miss.
In other news...
More Proof drops into the Drake, on Thursday, and their friend STA releases the "In Living Colour" single at the same venue on the 26th. It's got a killer remix by D.I.M. on the flipside.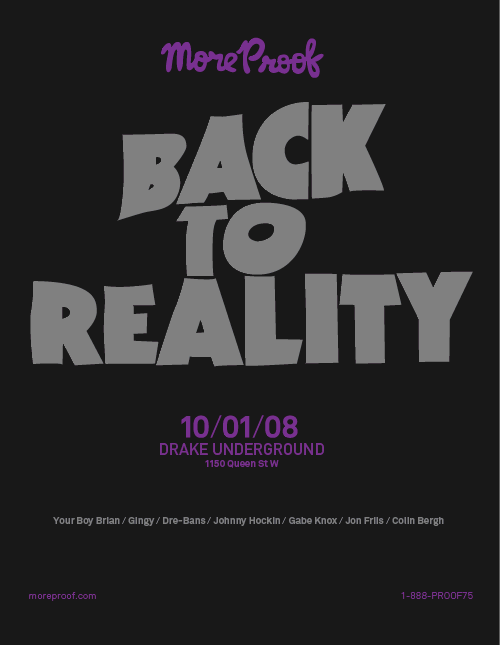 MORE PROOF: BACK TO REALITY
ft.Gingy, Yr Boy Brian, Dre-Bans, Colin Bergh, Jon Friis, Johnny Hockin, Gabe Knox
Thurs Jan 10 @ The Drake
$5
STA'S IN LIVING COLOUR RELEASE PARTY
ft. Nu Ravers On The Block, VNDLSM
Sat Jan 26 @ The Drake
$5
ESB PODCAST 1/8/07
JUSTICE - D.A.N.C.E. (Les Rhythms Digitales Remix)
CADENCE WEAPON - In Search Of The Youth Crew
PLIMSOULS - You Don't Look So Good
PLIMSOULS - 3000
CELEBRATION - Fly the Fly (Holy Fuck Remix)
VITAMINSFORYOU - Flesh Python
THE JETS - Crush On You (CFCF Remix)
PONEY PONEY - Junior (Bitchee Bitchee Ya Ya Ya Remix)
HERCULES + LOVE AFFAIR - Hercules Theme
INVISIBLE CONGA PEOPLE - Cable Dazed
VITAMINSFORYOU - Flesh Python (Jokers Of The Scene Remix)
SONS + DAUGHTERS - Dance Me In (JD Twitch + The Truffle Club Optimo Mix)