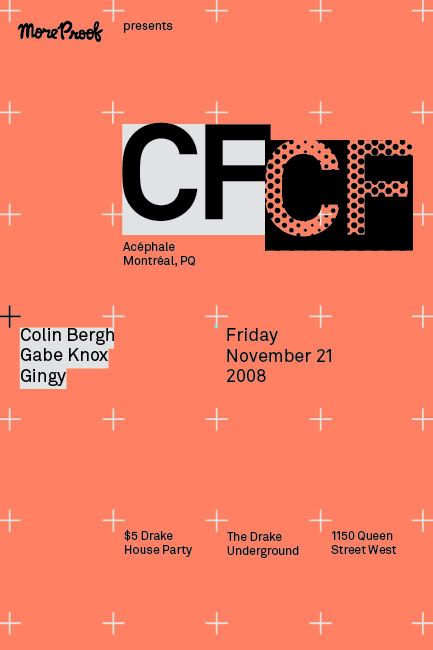 More Proof is back with a new
blog
, and an October edition that imports Montreal's remix mega-machine,
CFCF
. The last time I checked this guy out, on his home turf at The Green Room on St. Laurent, he dropped The Raccoons theme song, no joke. How's that for obscure Can-Con? That's right, Mike Silver will freak you out, so get on down to the Drake this Friday night and you won't miss out.
Also, this week on the show, we hear from a new duo made up of Jarret and Meaghan. They're from the unlikely environs of Peterborough, a sleepy hamlet north-east of Toronto not entirely known for dance music. But it's in these small towns that big city dreams are kept alive by the youth who crave to party their nights away. I recall my university days in a similar place, a small, tucked away town in Ontario called Kingston. We could have used the likes of
Fire Flower Revue
and their side project,
Black Tale
, to keep our feet moving in those tiny basement parties we'd throw, far far away from the shitty hubs the "normies" took by storm.
ESB PODCAST 11/18/08
FIRE FLOWER REVUE - Doh Wop Hearts
CHROMEO - 100 % (Nacho Lovers Remix)
NACHO LOVERS - Go On
LATE OF THE PIER - The Bears Are Coming (Emperor Machine Remix)
GENGHIS TRON - Recursions (CFCF Remix)
PINK STALLONE _ Swiss Ambulance
MGMT - Of Moons And Birds (Holy Ghost! Remix)
LADYHAWKE - My Delirium (Chateau Marmont Remix)
LIONESS - You're My Heart