Tune in tomorrow for an Ed Banger themed Toronto-to Paris special, featuring new cuts from Ed Rec Vol 2, and remix exchanges between the Big Smoke and Gay Paree. I imagine it'll be like a fight between Morley Callahan and Jean Paul-Sartre...except the French are so hard these days, they put hosers to shame. Ever member of the Ed Banger crew has better hockey hair than any Canadian could ever dream of.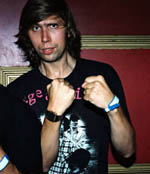 Justice...one half Bobby Clarke, second half Bobby Orr, while Busy P takes a more Gretzky-in-LA approach.
In the meantime, I'm shootin' it for
Seez's Mix Vol 3
. If you're an ESB listener, or just into this shit period, you'll drop this mix for your friends.
Seez's first album is on the way. It's sweet.