START BUYING TICKETS
Sadly I missed the Gogol Bordello / Lenin I Shumov show at The Drake this past Wednesday. It sold out before I even found out about the show, which is a common problem for me in this city. My friend Hillary was one of the lucky few to get tickets, and her description of the show made it a very regrettably missed opportunity. She seemed a bit bewildered that a good deal of the crowd were young skateboarders, but if you think about it, it's not that strange. Gogol have gained a lot of attention from "the kids" by appearing on the Warped Tour and various Epitaph-ish compilations. It's no surprise to me that a Youtube search for Gogol Bordello turned up two webcam videos of 17 year old girls dancing to "Start Wearing Purple".
Here's a picture of my good friend
Seez
with Eugene last night at the Gogol show in Montreal...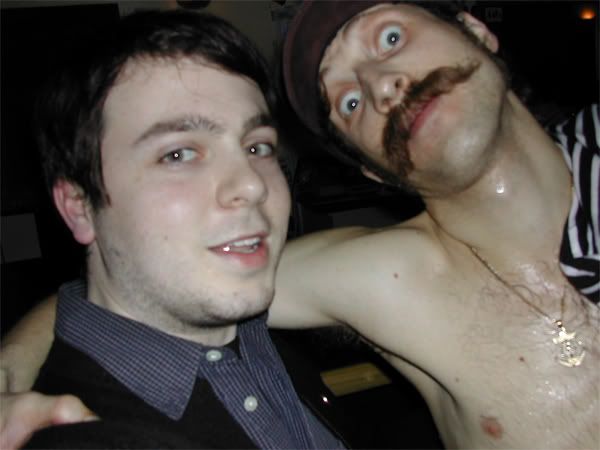 ...and another of him and Mr. Lahey from Trailer Park Boys.
He gets to meet everyone!
Two downloads this week of some new local stuff.
THE RIDE THEORY - I'm On Board
A fantastic live band of young dudes from Hamilton that have two energetic albums under their belt. I always loved this track live, and now it's finallly on record. Their latest album is called
In This City
. Apparently they're releasing a 7" soon, which I will keep my eyes open for and try to hook up a copy for airplay.
FRIENDLY RICH + THE LOLLIPOP PEOPLE - The Ballad of Geroge Chuvalo
An astoundingly talented lineup of renowned local players from the GTA and Guelph, including Mike Olsen on cello and Sly Juhas on drums. They just released their new album last night at the Lula Lounge. They've titled it
We Need a New F-Word
and it's garnered a provocative
review
with some comments about the song above. Produced by Bob Wiseman.
ESB PLAYLIST 2/17/06
THE FALL - Strychnine (Peel Sessions, '93)
THE VERTICAL STRUTS - Stab Stab Stab
THE VERTICAL STRUTS - Sh!
THE RIDE THEORY - I'm On Board
THE RIDE THEORY - Motel Woman
THE LOLLIPOP PEOPLE - Where the Baker Sleeps
THE LOLLIPOP PEOPLE - The Ballad of George Chuvalo
THE PAPER CRANES - Deus Ex Machine Gun (Run Roc Remix)
THE SNUGGLEUPS - Fold Me Up
THE KNIFE - Pass This On (Live)
THE SCREAMERS - I Wanna Hurt
GENE DEFCON - The King of France
GENE DEFCON - La La La La Gene Defcon
THE MAE SHI - The Meat of Inquiry
THE MAE SHI - Remarkably Dirty Animals
THE STICK MEN - Level Head
THE STICK MEN - Legend of the Stick Men
THE DELTA 5 - Circuit
Thanks to
Postpunkjunk
for most of today's playlist.