It's about time we...um, y'know, wrote stuff on this blog again. The days of summer are winding down here in Toronto, but as every year prior to this one shows, the party don't stop just 'cause it's 12 o'clock. There's a lot of action to be had by all now that the horny students are back in the game, what with the
Toronto International Fuck Fest
about to start. Parties will be thrown around like bras at a Tom Jones concert, guest lists will be a mile long and waits at the door will probably last forever, but what the hell, we're all in it together, yeah? And last call is 4am so in all likelihood, showing up at 2 might not be a bad idea.
This week, expect madness on a grand scale. Thursday might be one of the busiest nights ever for the Electrolites and the Disconians.
Your best bet is Vice's Film festival Ball, a three room and partially outdoor orgy of tunage. It's at U of T's Hart House, and in the majestic and grandiose environs of the Great Hall, you'll find Juan Maclean and a special guest, while the Djs from The Beaver's occasional punk night Off White are outdoors.
RSVP festivalball@viceland.com for yourself and a plus-one.
Also, down at The Drake, you can catch the
Jokers of The Scene
,
Vitaminsforyou
,
Dirty 30
, and
The Cleef
for a Toronto to Ottawa boogie-down.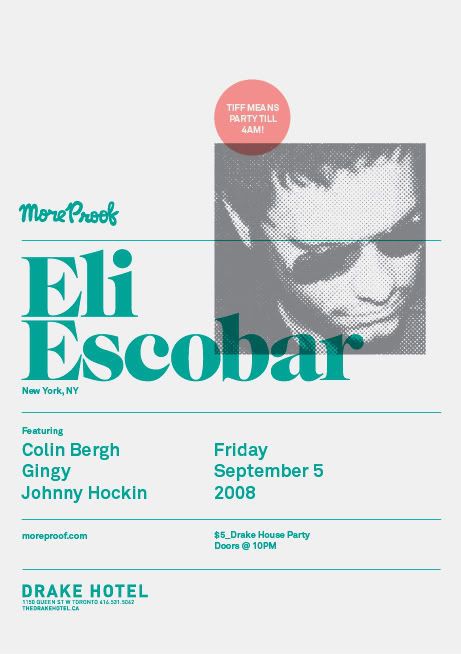 Friday night, back at The Drake, check out our old friends from
More Proof
, who have Eli Escobar headlining a three floor spectacle of boozalicious electrovinity. In the basement,
Times Neue Roman
,
Kelly + The Kelly Girls
and
Styrofoam Ones
perform live alongside the More Proof DJ crew and Eli, while Mikey Apples spins disco in the lounge at 2am.
Facebook Invite
Or, Tim Sweeney is making up for his July no-show for another spectacular 7th Heaven party.
I don't even know what the deuce is going down on Saturday! Will anyone have the energy to do anything but watch reruns of My So Called Life?
*****
On the show today, loads of Toronto content, most notably from a new group called
Cobra Cut
who do a Modorific job of making head-spinning disco. You can find a mini-mix at
Sparks vs Space (RIP)
.
ESB PODCAST 9/2/08
SEBASTIEN TELLIER - L'amour et la violence (Boys Noize Remix)
Cobra Cut - Night Prism
LUKE SOLOMON - Demons (Brennan Green Remix)
MOXIE - Beyond Jupiter
FAN DEATH - Veronica's Veil
SYNTONICS - Jit Dat Troop (Cryo + Barbi C Remix)
CRYSTAL CASTLES - Vanished (Nasty Nav Remix)
CRYSTAL CASTLES - Crimewave (Dances With White Girls Remix)
YOU SAY PARTY! WE SAY DIE! - Opportunity (Montag Remix)
HEY CHAMP - Cold Dust Girl