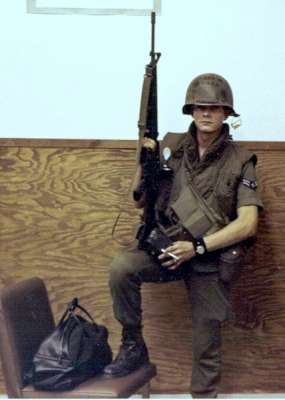 This news is just too good to pass up...
If you tuned into ESB a few times last year, you might have heard some brief clips from
Radio First Termer
, a pirate radio show in Saigon headed by Dave Rabbit, his engineer Pete Sadler, and a co-host named Nyugen (all pseudonyms). They stole a 50 watt signal from the airforce and broadcasted a nightly 3 hour orgy of "hard acid rock" and anti-war satire at 69 megacycles on the FM dial, using a local whorehouse as their makeshift station. It lasted about three weeks, in January of 1971.
I first heard about Dave Rabbit it in a high school computer class. I was sitting beside this kid whose dad had served as a chopper gunner late in the Vietnam War. "My dad used to listen to a pirate radio show when he was over there," he told me, and he took me to a wesbite that had numerous audio files, digitized from several generations' worth of bootleg tapes. It took about seven seconds for me to realize that this was probably the craziest, most ballsy, most incendiary and most entertaining radio programs of all time.
Dave Rabbit has come out of the woodwork, and while he has not totally identified himself, he has written his own
testimonial
, appeared on a
Citizens Against Lies podcast
, and is currently in Iraq, somewhere in Baghdad, doing the same thing he did in Vietnam.
Listen to the above podcast, and if you get the chance, tune into some of the Radio First Termer bootlegs...Dave's story is fascinating, a true testament to underground media, and the original show is off the wall.
Tune in tomorrow for new material from Ghostface, Amy Winehouse, Quiet Village Project, and more...in the meantime, enjoy some Dave Rabbit wisdom:
RADIO FIRST TERMER - Sign On
RADIO FIRST TERMER - Introduction to the Evening's Program
RADIO FIRST TERMER - The Pusher
RADIO FIRST TERMER - Weather Report with Captain Ivan Pansy
RADIO FIRST TERMER - Dave Rabbit Philosophy
BONUS!!! Our good friend Siktransit put a little piece together earlier this year, making a track out of a RFT clips:
SIKTRANSIT - Radio First Termer Cut Up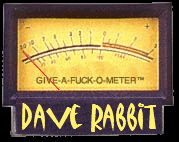 ESB PLAYLIST 11/28/06
QUIET VILLAGE PROJECT - Circus of Horrors
AMY WINHEHOUSE - Rehab
GHOSTFACE ft. Amy Winehouse - You Know I'm No Good
CHROMEO + DJ MEHDI - You Know I'm Somebody
MOSES MAYES - Space and Time
MAYOR MCCA - DGU
B.A. JOHNSTON - Sleeping With My Walkman
ANDY RUDOLPH - On the Town
TEENAGE BAD GIRL - Ghost House
ACID JACKS - Pump it Up
ARCHITECTURE IN HELSINKI - It's 5 (Poutine Dream Mix 33hz + Ming)
PETER, BJORN + JOHN - Let's Call It Off (JD Twitch's Optimo Remix)