BOPPIN THE BLUES
BO DIDDLEY - Elephant Man
Few people remember Bo for much more than "Who Do You Love" and his other hambone style tunes, but by the 70s, Bo was diddlin' with the funk jus-a l'il bit. If anyone got the Death in Vegas "Back to Mine", they'll remember this one.
HUEY "PIANO" SMITH - Don't You Just Know It
Covered by The Sonics a decade later, this familiar but forgotten call-and-response number resurfaced in its original form on the Snatch soundtrack a few years back.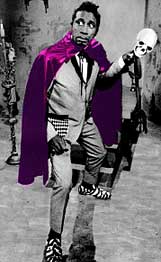 SCREAMIN JAY HAWKINS - Screamin Demon
Don't even try to tell me that psychobilly or goth music is anywhere nearly as freaky as Screamin Jay. Even his party tracks scare the shit out of everyone.
ESB PLAYLIST 5/5/06
LILY ALLEN - Knock Em Out
DAFT PUNK - Technologic (Vitalic Remix)
GNARLS BARKLEY - Crazy
METRONYMY - Black Eye / Burnt Thumb
HYSTEREO - Let's Do It
MAGAZINE - The Light Pours Out of Me
ORCHESTRA MANOUVERS IN THE DARK - Electricity
EUGENE RIPPER - Pulverizer Revisited
EUGENE RIPPER - Tech Know Me
EUGENE RIPPER - My Favourite Chair
EUGENE RIPPER - New Attitude
WOLF PARADE - Claxxon's Lament
HANDSOME FURS - Dumb Animals
SUNSET RUBDOWN - Stadiums and Shrines II
DANTE DECARO - Shawnigan Lake Blues
AMADOU + MIRIAM - Senegal Fast Food