IN AN OVERZEALOUS MOOD TO PARTY
I have very little more to say other than that these songs are fantastic to dance around to in the basement or in the office.
The first three selections are from the Soul Jazz
New York Noise
compilation.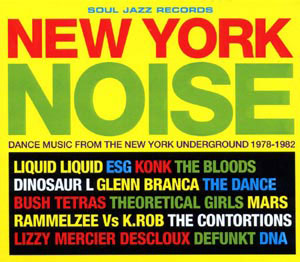 THE BLOODS - Button Up
THE BUSH TETRAS - Can't Be Funky
JAMES CHANCE AND THE CONTORTIONS - Contort Yourself
The next two are new from recent records out of Toronto and Montreal respectively. The Barcelona Pavillion have risen to worldwide acclaim thanks to The John Peel Show and
Steve Kado's tireless work with children
, while We Are Wolves were
thoroughly unmentioned
by a heartless Chuck Klosterman.

THE BARCELONA PAVILLION - Masters of Our Feelings
* Buy It's Because of The Barcelona Pavillion


WE ARE WOLVES - T.R.O.U.B.L.E.
* Buy Non-Stop Je Te Plie En Deux